Resin Domino Workshop
CLASS DESCRIPTION:
This 2-hour workshop will teach you the fundamentals and basic knowledge for creating epoxy resin dominos.
Use this class as a starting point for developing your own designs. This class is designed to provide you with all the techniques and insights necessary to create your own resin domino sets once finished with this curriculum.
In this class you'll learn about:
Creating exceptional depth and dimension by pouring multiple layers of resin.
How to add paint, glitter, and pigment to your resin
How to properly prep your mold
How to receive a flawless finish of the back side of your resin dominos
Important details about the properties of resin and how to prep it
Professional tips, do's and don'ts in resin domino mold pouring
Steps and supplies necessary for painting the dots and center line
Tools, supplies, and products needed in the pouring process, including a proper station set up
SKILL LEVEL: ALL
PDF DOWNLOADS:
You'll receive printable PDF files of the following:
Checklist for everything you need when prepping, mixing, and pouring the resin, sanding your resin domino pieces, and painting the dots and center line
Links to all materials, supplies, and tools used in this epoxy domino workshop
Step-by-step reference sheet
PRODUCTS: Learn how to work with a variety of professional brands as ArtResin, Golden, Pearl Ex, and Stardust Micas.
DURATION: 2 hours 6 minutes
Resin Domino Kits:
OPTIONAL: Materials Kits for epoxy dominos
The kits are available to purchase in my online shop. They include:
ArtResin
cotton swabs
disposable gloves
glitter
measuring cups
mixing cups
paint
pigment
plastic to cover workspace
popsicle sticks
pouring cups
precision tip applicator bottle
dual sanding sponge
spray bottle (empty) for 91% alcohol
tooth picks
This workshop was selected and featured by ArtResin to showcase Anja Yamaji's resin artwork.

Resin Domino Workshop - Course Preview

I would like to invite you to take a sneak peek at my DIY Resin Domino Workshop.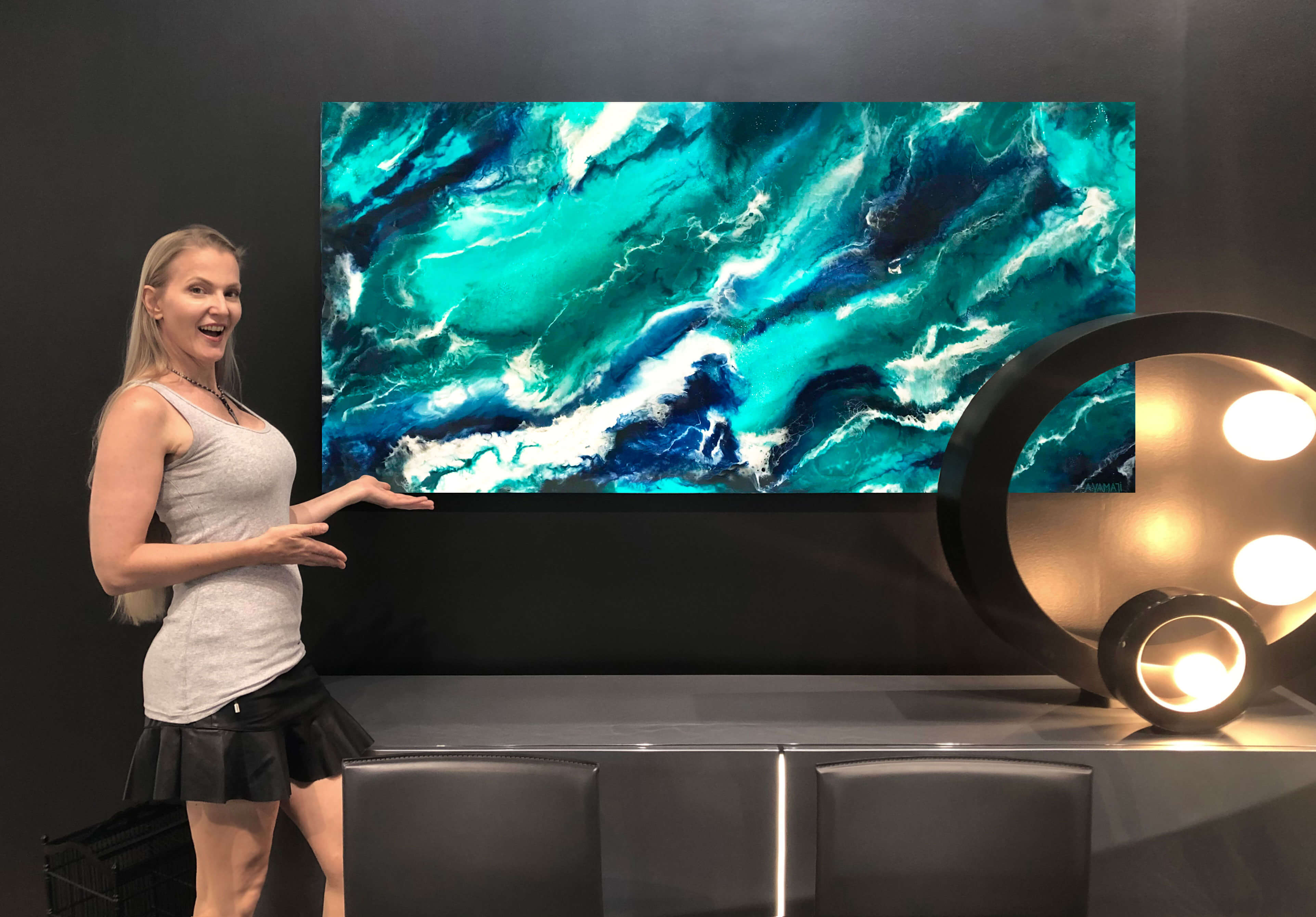 Hi, I'm Anja!
I'm an artist dedicated to bringing color and sparkle to everyday life with my custom work.
Through beauty makeup, body paint, and headdresses, I find joy in helping others feel beautiful and confident. 
My fine art paintings are tuned to the positive energy in a space and are designed to enhance a room with the right colors.
As your art mentor and instructor, I'm here to help you succeed.
These dazzling epoxy resin dominos take the game to a whole new level -- and they're made by you!
Below are the three designs you will learn in this resin domino workshop.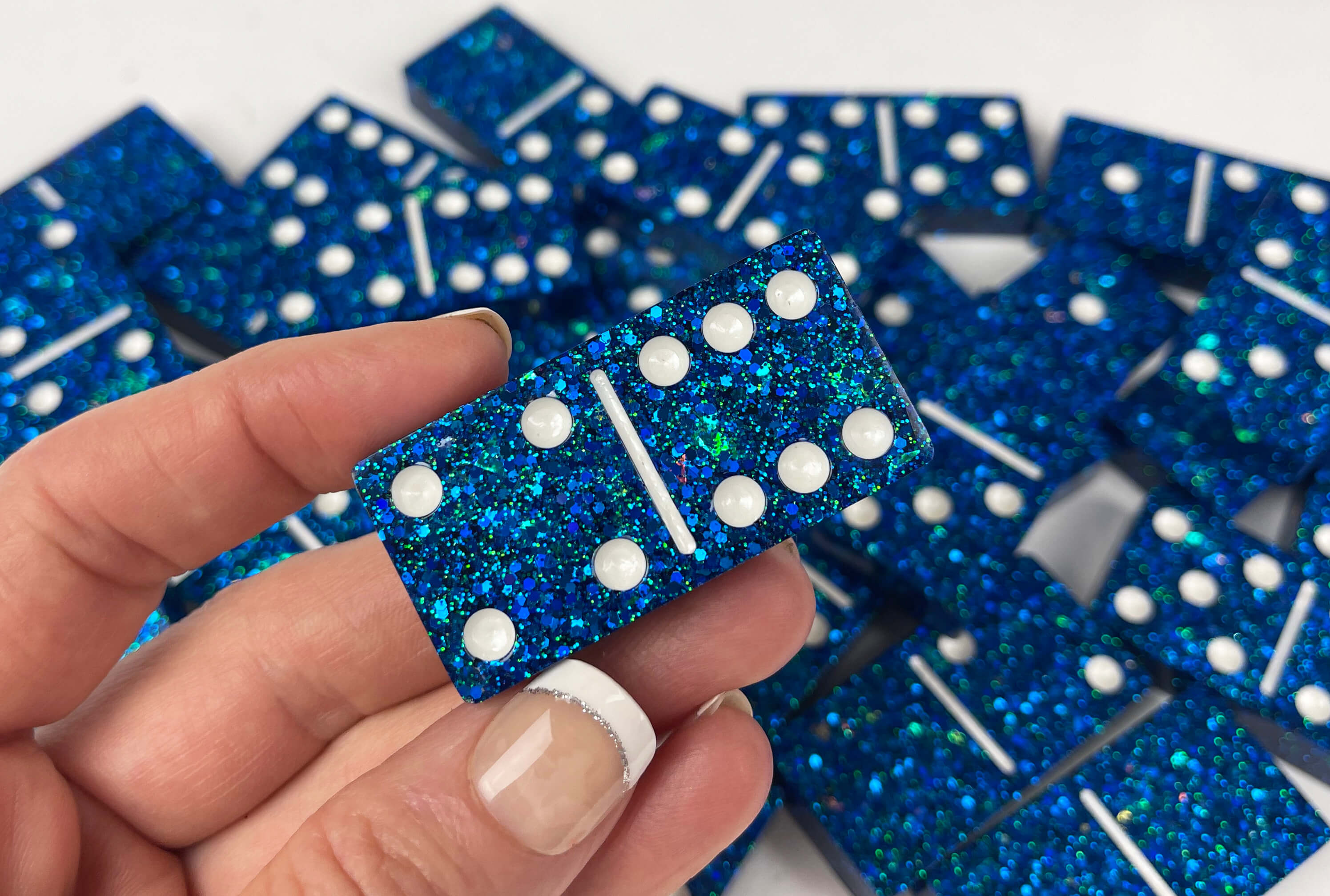 SET #1 - Midnight Blue
Blue glitter mix and pearl white paint.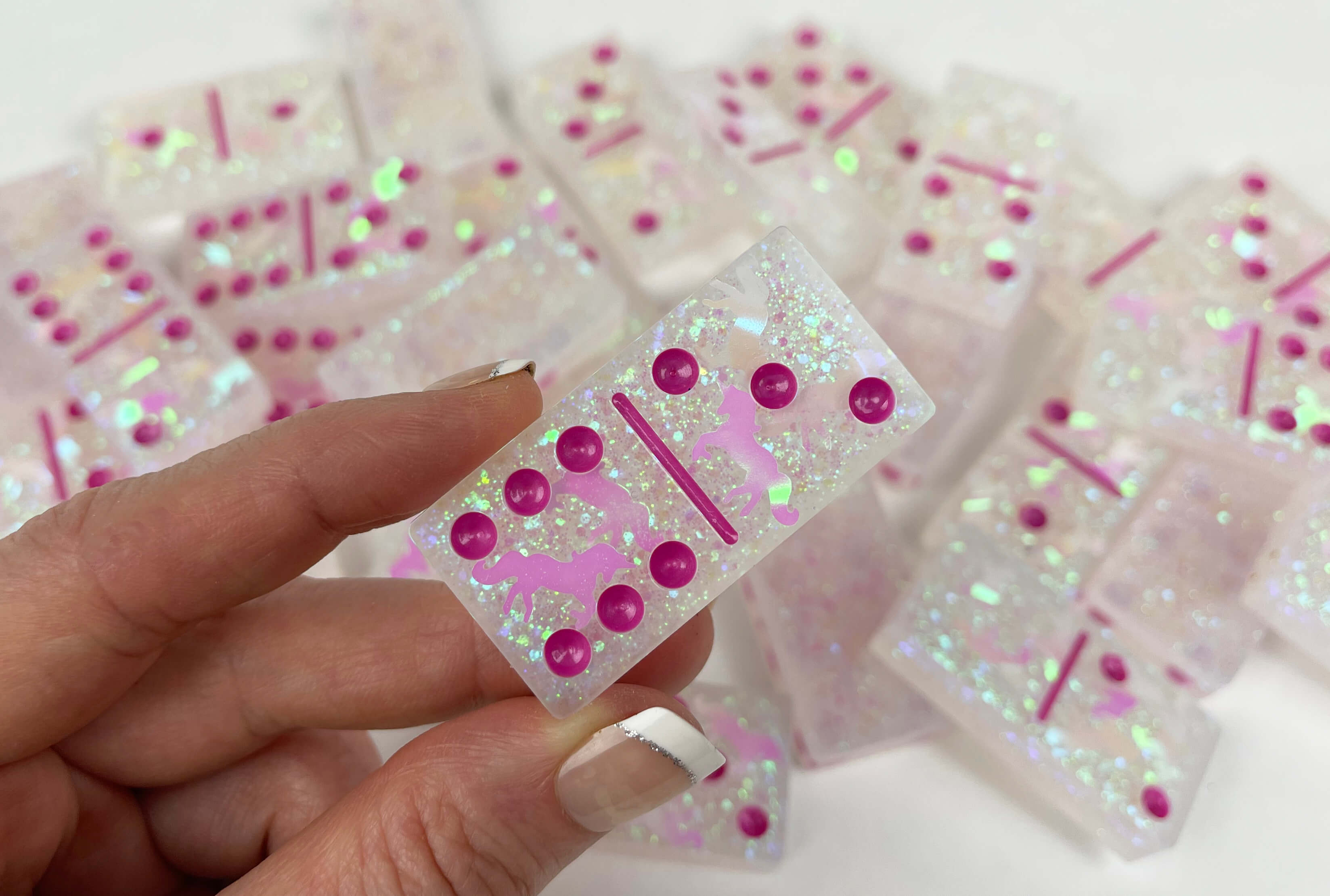 SET #2 - Diamond Unicorns
Unicorn-shaped glitter layered with iridescent glitter mix and pearl pink paint.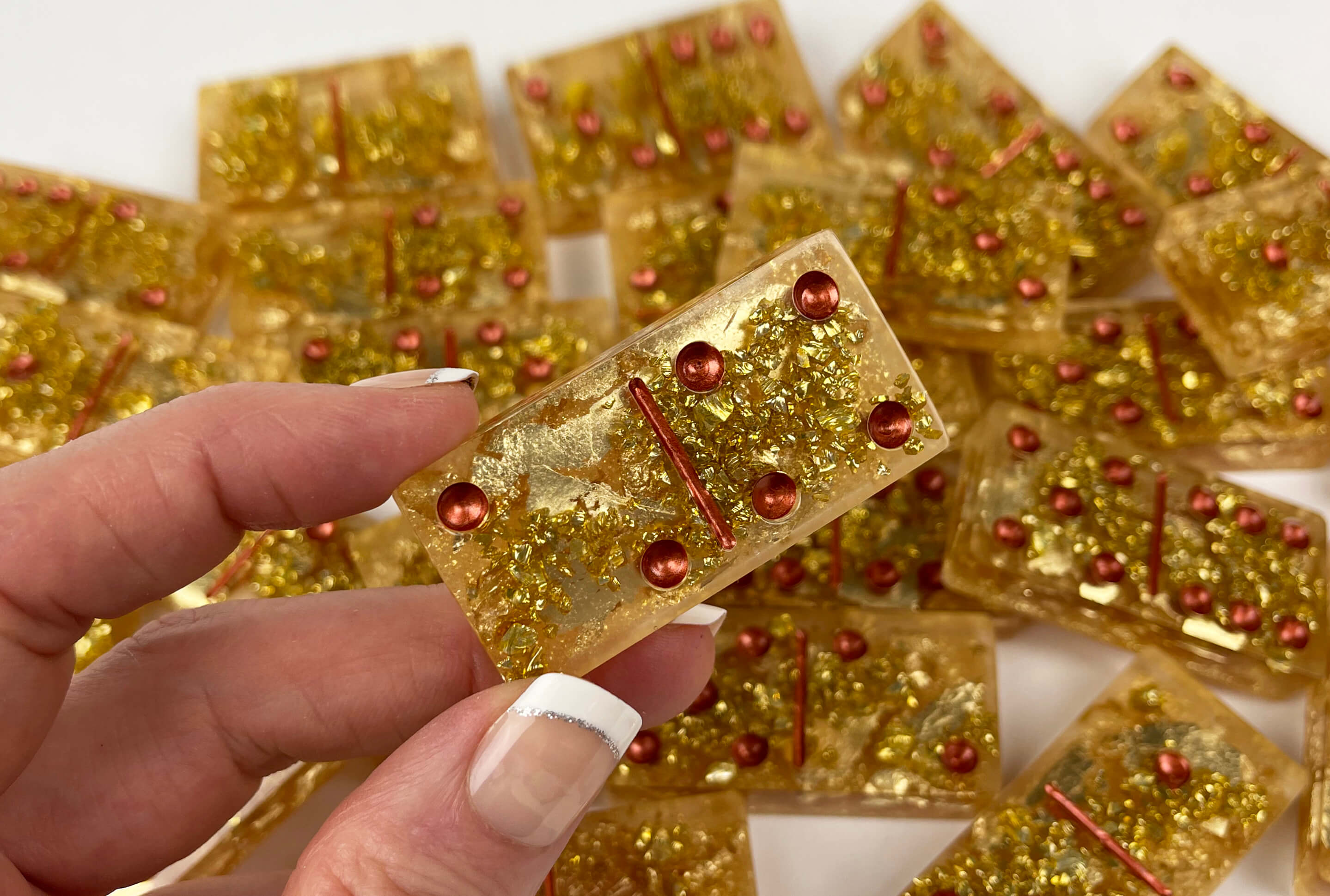 SET #3 - Coppery Gold
Crushed gold-colored glass layered with gold leaf, pigment and copper paint.
Finished Resin Domino Sets

Take a closer look at the custom resin domino designs you will be learning to pour in this DIY resin domino workshop.