Flower Headpiece Workshop
DESCRIPTION:
Learn how to work with an assortment of different materials and techniques while following detailed step-by-step instructions to recreate the fan and floral headdress. This workshop is designed to give you the knowledge and confidence to create your own future headdress designs.
This headdress design is a beginner level design - no prior experience necessary. This class builds on the base created in the Headdress Base Workshop. Once you finished this curriculum, check out the advanced level Gold & Horns Headdress Workshop.
Use your new flower headpiece for costumes, festivals, concerts, special events, body paint competitions, photo shoots, and more.
In this floral headdress class you'll learn:
Glitter application on foam and wood surfaces

How to apply trim

How to create a finished headdress

Professional tips, dos and don'ts in headdress making

Securing decorative pieces with hot glue
Techniques for attaching chains
SKILL LEVEL: Beginner's
PDF DOWNLOADS:
You'll receive a printable PDF file of the following:
Step-by-step written instructions for how to decorate the headdress
links to all materials, glues and tools
PRODUCTS: If you live in the United States you'll have easy access to all the supplies. Most items will be available at Amazon, Hobby Lobby, Michaels, and Sally Beauty. In case you prefer a ready-made materials kit for this floral headdress class, those are available in my online shop and ship worldwide.
DURATION: 2 hours 10 minutes
IMPORTANT NOTE:
This class does not cover how to create the headdress base. Learn how to make the base in the Headdress Base Workshop.
DIY Floral Headpiece Kits:
OPTIONAL: These ready-made kits are available to order in my online shop.
Live DIY Headdress Classes:
For upcoming live workshop please go to Anja's Eventbrite page.
Please contact Anja if you want to schedule a private group or a "1on1" in person class.

Floral Headdress - Course Preview

I would like to invite you to take a sneak peek at my Flower Headpiece Design Workshop.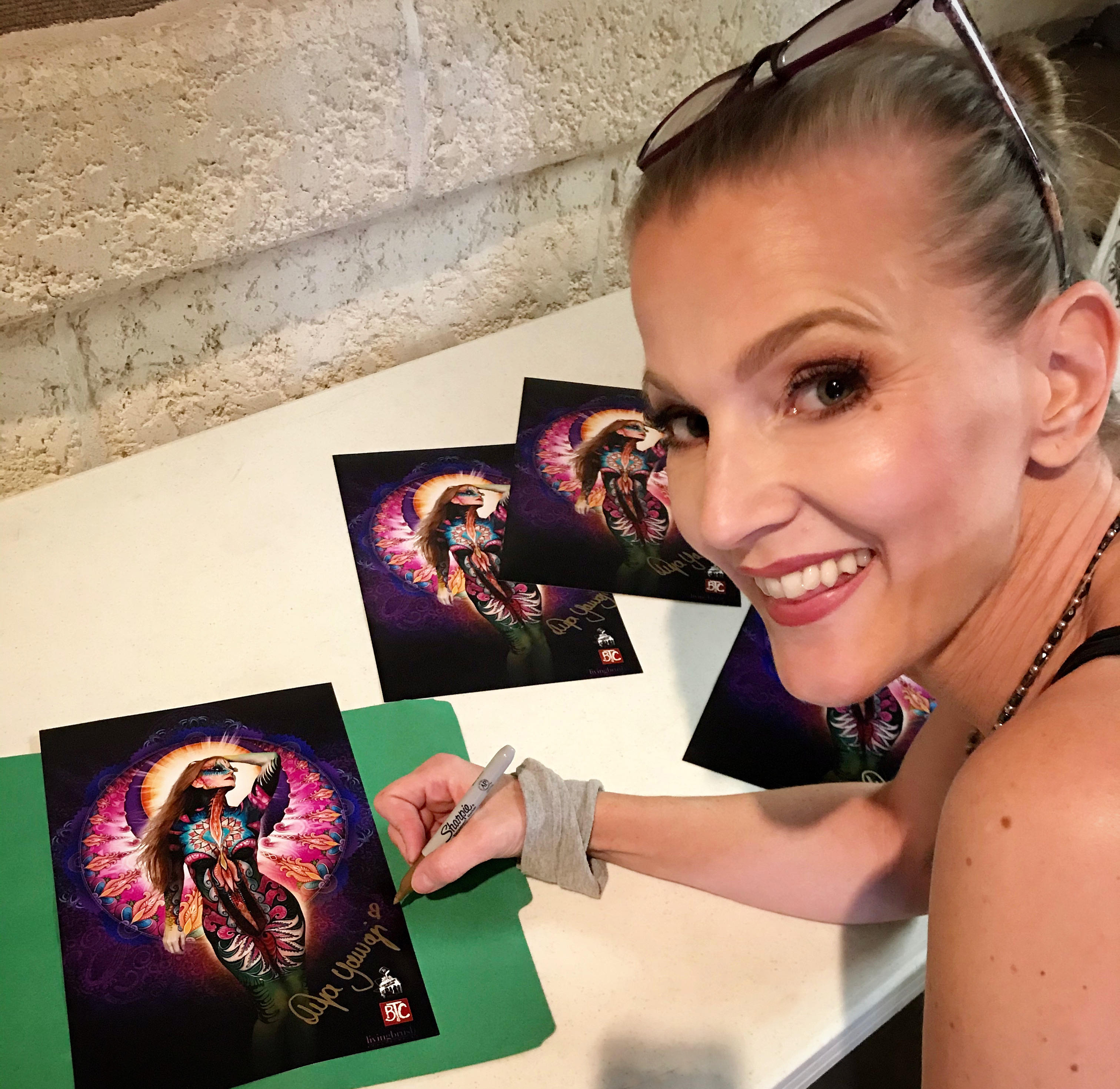 Hi, I'm Anja!

I'm an artist dedicated to bringing color and sparkle to everyday life with my custom work.
Through beauty makeup, body paint, and headdresses, I find joy in helping others feel beautiful and confident. 
My fine art paintings are tuned to the positive energy in a space and are designed to enhance a room with the right colors.
As your art mentor and instructor, I'm here to help you succeed.
Behind-The-Scenes of a Live Headdress Workshop

This DIY Headpiece Workshop was held at ACE (Austin Convention for Entertainers) on September 16th, 2019 - Austin, TX